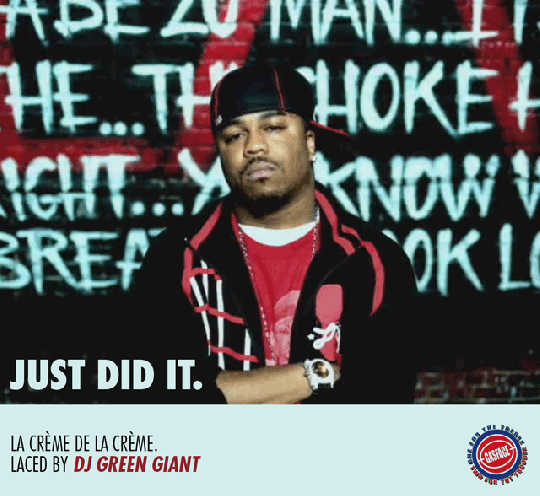 My colleague DJ Green Giant hooked up with Gasface to make this best of Just Blaze tape hosted by Just himself. Dope!
Tracklisting:
Diplomats – I really mean it
Cam'Ron – Oh boy feat. Juelz Santana
Cam'Ron – Welcome to New York City feat. Jay Z
Jay Z – U don't know
Jay Z – U don't know remix feat. M.O.P
Jay Z – Public Service Announcement
Jay Z – Public Service Announcement remix
Jay Z – Hovi baby
Jay Z – Song Cry
Jay Z– Dear summer
Jay Z – December 4th
Jay Z – Bitches & sisters
Jay Z – Show me what you got
Young Gunz – Friday night
The Beastie Boys – Ch-check it out Just Blaze remix
Freeway – Flipside
MED – Get back
Kanye West – Touch the sky
Memphis Bleek – Round here feat. T.I.
T.I. – King back
Busta Rhymes – Street Shit
Jadakiss – It's time I see you
Fabolous – Return of the hustle feat. Swizz Beatz
Fabolous – Breathe
Nas – The scientist
Jay Electronica – Exhibit A
Jay Electronica – Exhibit C
Beanie Sigel – Get Down
Saigon – C'mon baby feat. Swizz Beatz
Eminem – Session one feat. Slaughterhouse
Fat Joe – Safe 2 say
Prodigy – Diamond feat. Bars & Hook
The Game – Church for thugs
Erick Sermon – React feat. Redman
Drake – Lord knows feat. Rick Ross
Rick Ross – I love my bitches
Maybach Music Group – Self made
Shyne – Diamonds and Mac 10's
Usher – Throwback feat. Jadakiss
Allen Anthony – Alright
Carl Thomas – My first love

Gasface c'est associé a mon collègue DJ Green Giant pour sortir cette mixtape consacrée au jazzman canadien Galt MacDermot qui bien qu'inconnu du grand public a été samplé par les plus grands du hip-hop (Nas, DJ Premier, Run DMC et d autres). En moins d'une semaine, la tape a déjà eu plus de 4000 plays.
La mixtape accompagne un documentaire du meme nom #Looking4Galt qui sortira en avril et dont voici le trailer.


Les lyonnais du webzine Gasface sont passé nous voir dans les studios de Couleur 3 la semaine passé pour promouvoir le passage sur Arte de leur New-York Minute. Vous pouvez re-ecoutez l'émission ici.