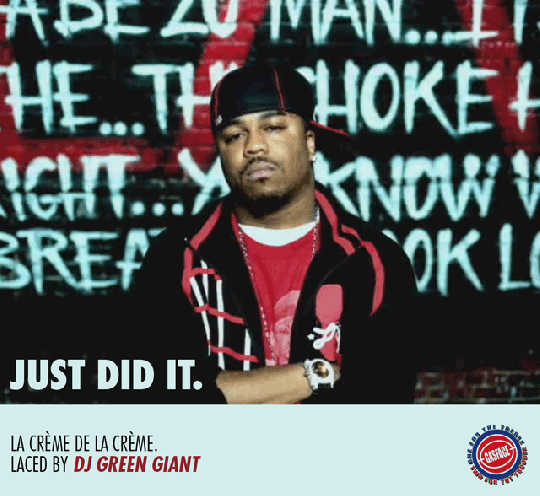 My colleague DJ Green Giant hooked up with Gasface to make this best of Just Blaze tape hosted by Just himself. Dope!
Tracklisting:
Diplomats – I really mean it
Cam'Ron – Oh boy feat. Juelz Santana
Cam'Ron – Welcome to New York City feat. Jay Z
Jay Z – U don't know
Jay Z – U don't know remix feat. M.O.P
Jay Z – Public Service Announcement
Jay Z – Public Service Announcement remix
Jay Z – Hovi baby
Jay Z – Song Cry
Jay Z– Dear summer
Jay Z – December 4th
Jay Z – Bitches & sisters
Jay Z – Show me what you got
Young Gunz – Friday night
The Beastie Boys – Ch-check it out Just Blaze remix
Freeway – Flipside
MED – Get back
Kanye West – Touch the sky
Memphis Bleek – Round here feat. T.I.
T.I. – King back
Busta Rhymes – Street Shit
Jadakiss – It's time I see you
Fabolous – Return of the hustle feat. Swizz Beatz
Fabolous – Breathe
Nas – The scientist
Jay Electronica – Exhibit A
Jay Electronica – Exhibit C
Beanie Sigel – Get Down
Saigon – C'mon baby feat. Swizz Beatz
Eminem – Session one feat. Slaughterhouse
Fat Joe – Safe 2 say
Prodigy – Diamond feat. Bars & Hook
The Game – Church for thugs
Erick Sermon – React feat. Redman
Drake – Lord knows feat. Rick Ross
Rick Ross – I love my bitches
Maybach Music Group – Self made
Shyne – Diamonds and Mac 10's
Usher – Throwback feat. Jadakiss
Allen Anthony – Alright
Carl Thomas – My first love

This is their second duo of the year. And god is this fire. I m on my 5th listen in a row and I haven't even heard Em's verse yet, I keep repeating Weezy's. That Recovery album is gonna be the shit.
Eminem & Lil Wayne – No Love (Prod Just Blaze)
Audio clip: Adobe Flash Player (version 9 or above) is required to play this audio clip. Download the latest version here. You also need to have JavaScript enabled in your browser.
Sidenote: damn did I hate the original Just sampled for this joint. But I forgive him.
Props: YHTN